Is InboxDollars legit? Our InboxDollars Review Finds Out (Plus Hacks for Earning the Most Money)
When I was paying off my student loans, I was hyper frugal.
I used coupons, bought my groceries at Aldi, and shopped at thrift stores.
Once I was done trimming my budget as much as possible, I looked for other ways to make money on the side.
I was a full-time journalist and spent most weekends driving three hours to visit my boyfriend in another city. I didn't have the time to get a second job, and this was years before driving for Uber or Postmates was an option.
Instead of confining myself to a regular part-time job, I spent hours each week taking surveys. I loved that I could do the surveys whenever I wanted. If I didn't feel like taking any, I didn't have to. If I had extra time, I could make a few bucks.
The best part was that I could take surveys without leaving my apartment. I didn't have to get in my car and drive around a sketchy part of town delivering packages or food. When I got home feeling energized, I could knock out a few surveys. But if I was burnt out, I could take the night off.
Making money taking surveys through InboxDollars could help you make some extra money – and even pay off your student loans early, like I did.
What is InboxDollars?
InboxDollars is a site where consumers can take surveys, redeem cash-back offers, and watch ads to make extra money on the side. You can use InboxDollars on your laptop or as an app, so it's a good way to make money while you're standing in line or walking the dog.
One frustrating aspect to InboxDollars is how long it can take to find a survey you're qualified to take. InboxDollars doesn't automatically send you surveys you're eligible for. Instead, you have to fill out questions beforehand to determine your eligibility.
Depending on the survey and your particular demographics, this may happen frequently. This problem isn't unique to InboxDollars. Users of other survey sites report the same problem.
Bottom line, if you want to take surveys for money, you have to put up with some headaches.
Pros:
Different ways to make money
Easy to do in your spare time
$5 bonus for signing up
Cons:
Minimum redemption is $30
Cash out only available through ePayment or check
Qualifying for surveys can be hard
Frequent emails
Is InboxDollars Legit and Safe?
InboxDollars is a legit survey and offer site. They have a four out of five rating on Trustpilot with more than 7,500 reviews, and an A rating from the Better Business Bureau.
Despite the A rating, they do have a two out of five star rating from customers on the Better Business Bureau. Some of these complaints are from people who say their accounts were terminated because they violated the site's terms.
Other reviews say good things about InboxDollars. One user said she earned $40 in the first two weeks. InboxDollars also doesn't sell or share your information for marketing purposes.
How Does InboxDollars Work?
InboxDollars is a site that offers a few different ways for users to make money. You can pick and choose or do all of them, depending on your time and interest.
Create Your InboxDollars Account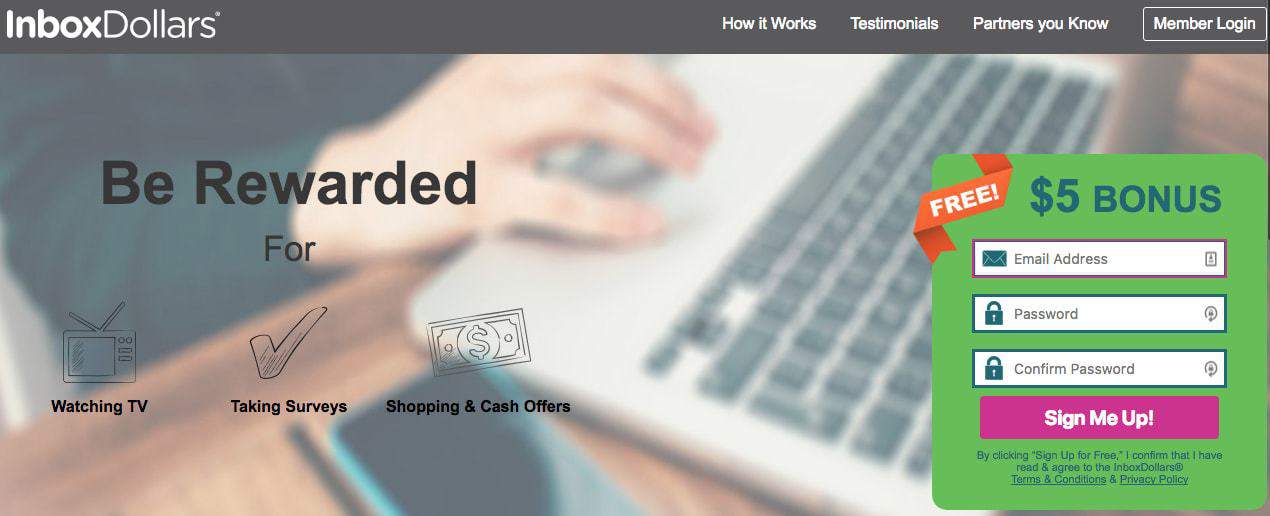 When you first create your InboxDollars account, you'll earn a $5 bonus just for signing up and confirming your email address. Then, you have to fill out a 30-question survey that asks for demographic information like your age or identified gender. This can take between five to 10 minutes to fill out and includes a 50-cent bonus.
Take Paid Surveys
Before you start making money taking surveys, you have to fill out your profile. This pays 50 cents when completed.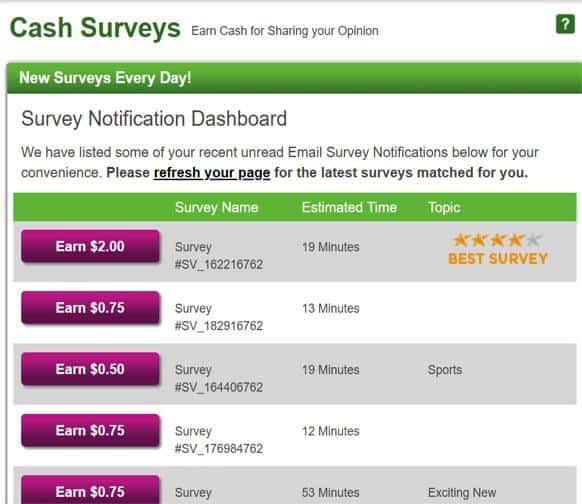 Watch Videos
To make money watching TV, click on the "TV" tab, which will have a featured video at the top. If you scroll down, you'll see other videos in several categories: News, Food, Entertainment, Health, Tech, and Celebrity.
Play InboxDollars Games
According to customer reviews, InboxDollars games are one of the hardest ways to earn real money through the site. But if you prefer playing games instead of taking surveys, you can make a few extra bucks.
Shop Online and Redeem Coupons
One way to make money with InboxDollars is to use their coupons, which are powered by coupons.com. Go to the "coupons" tab where you can find coupons on food, home goods and more.
Some current coupons include $1 off Listerine or $2.50 off Glad trash bags. This is one of the best ways to use InboxDollars because you'll be saving money with these coupons and earning money with InboxDollars. Remember not to print off any coupons for something you wouldn't buy; otherwise you're not saving anything.
Read Offer Emails
One way to make money on InboxDollars is to participate in PaidEmails. These are special emails from InboxDollars where you can earn rewards after reading them or completing a related task.
It's not clear exactly how much people can earn by reading these emails, but it can be an easy way to get a few extra points. You'll only get a maximum of four emails a day, so it won't clog up your inbox.
Redeem Your InboxDollars Rewards
You can redeem InboxDollars for e-gift cards or prepaid Visa gift cards. You can also request a paper check. You must have at least $30 in your account before you can cash out.
InboxDollars may also charge a $3 processing fee every time you cash out. This can be very frustrating for users.
InboxDollars App
The InboxDollars app is available on the Google Play store and on Apple devices. It has a 4.2 rating on the Google Play store and a 4.4 rating on the App Store.
The app lets people continue to make money on InboxDollars even when they're not on their desktop or laptop computer. However, some users say the app is glitchy and closes out surveys before they're done. Others say that they've tried to contact customer service with complaints about the app, but received no response.
InboxDollars Gold Membership
Having an InboxDollars Gold Membership means your payments are processed faster. According to their FAQs, payments for Gold members are processed on a weekly basis. You still have to wait up to a week to receive payment, but it's faster than the 10-16 it takes for non-Gold members.
Benefits of InboxDollars
InboxDollars offers a few different ways to make money. If you have a lot of time on your hands, you can toggle between watching videos, redeeming coupons, or playing games. Then you can switch back to taking surveys.
Its diverse offerings mean you can always switch to another activity if you get bored or tired of taking surveys. Most other sites only promote taking surveys to earn money, which can become boring after a while.
Disadvantages of InboxDollars
One of the biggest disadvantages to InboxDollars is how long it takes to cash out. You have to reach a $30 minimum threshold to cash out, which can be difficult unless you're spending hours taking surveys each month.
Some users complain that it takes too long to find surveys that they actually qualify for. InboxDollars doesn't tell people when they're eligible for a survey until they've answered several questions first. This can be discouraging for those who only have a limited amount of time to take surveys.
InboxDollars Review FAQs
Using InboxDollars can be intimidating because there are so many different tabs to click on, and it can be hard to decide where to start.
Is InboxDollars Worth My Time?
Some of the reviews make it seem difficult to find eligible surveys through InboxDollars. If you like taking surveys for money, you should use multiple survey sites at the same time. That will tell you which ones are easier to use.
How Much Can I Make with InboxDollars?
It's not clear exactly how much you can make with InboxDollars. Surveys can pay between 10 to 50 cents each, and can take around 5-25 minutes, depending on the survey. Some of their partner offers provide a higher payout, but require more time.
For example, you can earn $50 by switching to Liberty Mutual for your car insurance. Depending on your current auto insurance policy, this may be a good idea or can hurt you in the long run.
Who Should Use InboxDollars?
If you have a job where there's a lot of idle or free time, taking surveys on InboxDollars can be an easy way to make extra money on the side. It's also a great side hustle for students who have a few minutes to kill between classes or someone who wants to make extra money for Christmas gifts.
InboxDollars Alternatives
If you're having trouble getting approved for surveys through InboxDollars, consider signing up for one or more of its alternatives.
Vindale Research
Unlike InboxDollars, the best way to make money through Vindale Research is to take surveys. Their pay ranges from $1 for a 10-minute pet survey to $10 for a 35-minute baby food survey.
You can also earn money by reading special emails, watching videos, or referring other people to Vindale Research. The minimum threshold is higher than InboxDollars; you need to have at least $50 in your account to withdraw funds. This can be frustrating for people who only occasionally do surveys, since they'll have to wait longer to access their money.
Swagbucks
Swagbucks is one of the most popular survey and side hustle sites. Like InboxDollars, you can make money by taking surveys, watching videos, redeeming coupons, and more.
You can cash out money earned once you have at least $3 or 300 Swagbucks (or SBs) in your account. The SBs can be redeemed for gift cards for popular retailers such as Amazon or iTunes or cash through PayPal. Redemption offers vary so if you want an REI gift card, you may have to wait until you have more SBs.
You can also earn points easily by using the Swagbutton, which is a browser extension that you click on to find extra coupons or deals.
Survey Junkie
One of the original survey sites, Survey Junkie, still remains one of the most popular ways to earn money online. It's one of the few sites where the only way to make money is by taking surveys, not completing other tasks.
The minimum payout on Survey Junkie is only $10, which is much less than InboxDollars and other survey sites. This can be more appealing to occasional users who only want to take a few surveys a month.
You can redeem points for e-gift cards or cash through PayPal.
InboxDollars Review Summary
InboxDollars is similar to a lot of survey sites. There are a few different ways to earn money so if you want to avoid doing surveys, you can.
This is a great side hustle for people who have a lot of downtime, like those with a long subway commute. If you have a job with computer access and not a lot to do, you can take surveys without getting too distracted.
Be mindful of InboxDollars' rules and regulations so your account doesn't get suspended. And remember that you have to earn at least $30 before you can cash out.