Credit Karma Review: How to Get Your Credit Score for Free
There's a lot of fear tied to personal finance.
Many people are scared to invest in the stock market and others are afraid to check their student loan balance.
Another common fear? About 40% of Americans don't check their credit scores at all.
But your credit score is one of the most important factors used in determining your financial future. It could be the difference in tens of thousands of dollars spent or saved over the life of a loan.
Fortunately, there are companies on a mission to demystify credit and credit scores. Banks, lenders, and other financial service providers are now offering their members free access to their credit scores with no negative effects.
One of the biggest providers in free credit scores and reports is Credit Karma.
What is Credit K

a

rma?
Credit Karma is a personal finance company based in the U.S., U.K., and Canada and is best known for offering free credit scores and reports. The company has more than 100 million members and an A rating from the Better Business Bureau for resolving all complaints.
Credit Karma has been offering members free access to their credit scores since 2008 and full credit reports since 2014. Its mission is to give people free tools and recommendations to help them feel confident about their finances.
How is Credit Karma Free?
Credit Karma starts by letting you check your credit report and credit score for free. It then analyzes your report and makes recommendations on credit cards, loans, and other services that could help save you money or earn rewards.
If you sign up for a product through any of its suggested links, Credit Karma gets a commission from the bank or lender who offered it. Credit Karma only works with financial partners who share its mission so it can offer you products that actually fit your needs.\
Related: 6 Places to Check Your Credit Score for Free
How Does Credit Karma Work?
To join Credit Karma, you'll create an account by entering your email address and creating a password. You'll then enter your personal information, including your Social Security number, and verify your identity by answering questions based on information from your TransUnion credit report.
Once your identity is verified, you'll be able to use Credit Karma's entire suite of services.
Free Credit Score
You can get your free VantageScore 3.0, updated weekly, from two of the three major credit reporting bureaus, TransUnion and Equifax. Credit Sesame also offers your TransUnion score and report for free. You can get your Experian credit score from Credit.com.
Your VantageScore is different from your FICO score, which is still the primary score used by mortgage companies. But since its update to 3.0, the VantageScore uses the same credit score range as FICO so you can expect them to be similar.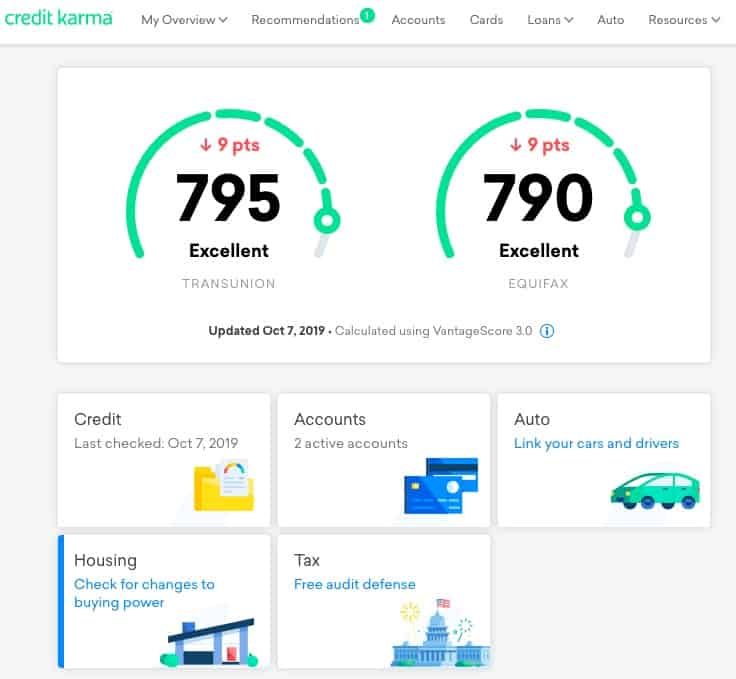 Free Credit Report
Your TransUnion and Equifax credit reports are free through Credit Karma. Your credit report includes information that impacts your credit score including payment history, credit limits and balances, length of credit history, and more.
Credit Karma grades each part of your credit using the VantageScore model with suggestions on how you can improve your credit score. Unlike the FICO model that weighs the aspects of your credit by percentages, VantageScore grades them by impact ranging from high to low.
Your payment history, credit card usage and derogatory marks like liens, bankruptcies, or loans sent to collections have the highest impact on your score. Your credit age has a medium impact and total accounts and hard inquiries have a low impact.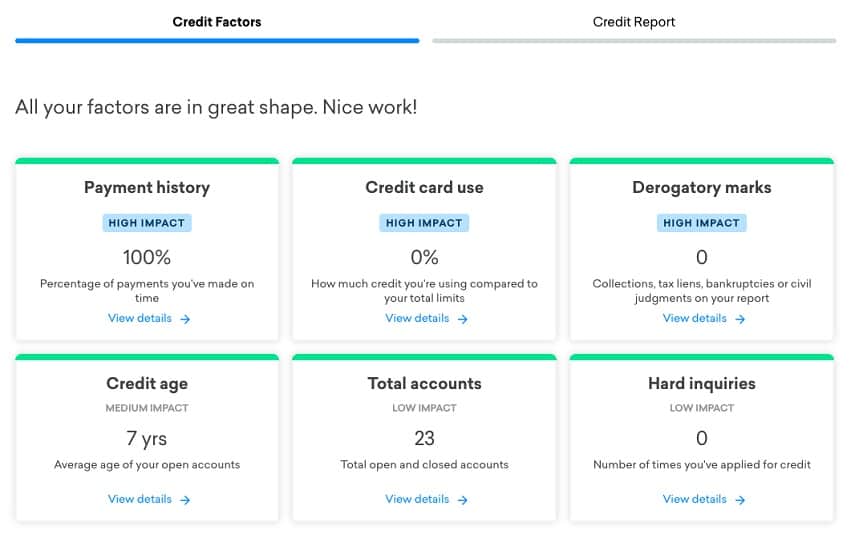 Credit Monitoring Service
Credit Karma's free credit monitoring service will help you quickly spot credit report errors and identity theft. If a hard inquiry is made, Credit Karma will notify you so you can take action. You'll also get notifications if your name shows up in a company's public data breach, on the Dark Web, or if anything important changes on your TransUnion credit report.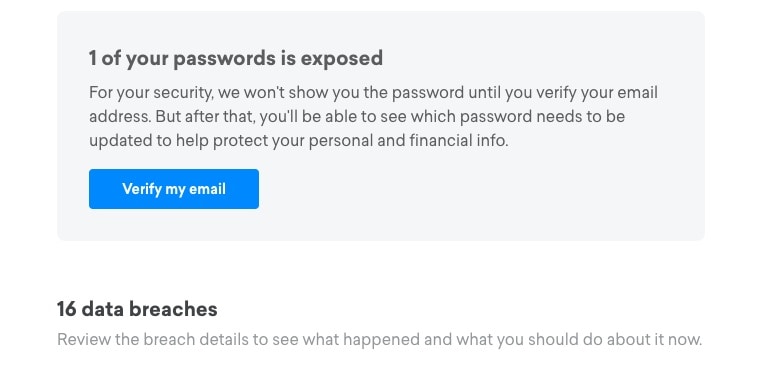 Loans and Offers
Once you find out your credit score and browse your credit report, you can see what recommendations for loans and financial products Credit Karma has.
Personalized offers and recommendations include:
Credit cards
Personal loans
Auto loans
Home loans
In June 2019, Credit Karma stopped offering recommendations for student loans, business loans, and debt relief solutions.
While some might see these offers as cumbersome, they can be helpful. When looking for credit cards or loans, Credit Karma will compare your credit profile with that of others who've been approved for the same product or card and determine your odds of approval.
This can save you from applying for a card or product you might get denied for and protect your credit score from dropping due to a hard inquiry.
Related: 6 Reasons Your Credit Score Just Dropped
Additional Features
If you're wondering how a financial decision might affect your credit score, the Credit Score Simulator lets you view various scenarios and uses your credit score to explore estimated outcomes.
The Credit Karma blog is full of informative articles to help you understand credit and all aspects of spending and debt. You'll also find financial calculators and thousands of member reviews on credit cards, loans, and more. This should help you make informed decisions.
You can also dispute errors on your TransUnion credit report with Credit Karma, file your U.S. taxes for free through Credit Karma Tax and search for unclaimed money that belongs to you.

| | |
| --- | --- |
| Pros | Cons |
| Completely free | No FICO score |
| Offers reports from both TransUnion and Equifax | Doesn't pull your Experian credit report |
| Many tools and calculators to help you make financial decisions | Lots of advertising |
Credit Karma Review FAQs
Credit Karma offers such a wide variety of services, it can be hard to keep track of everything they do.
How Does Credit Karma get my Credit Score?
Credit Karma pulls your information from TransUnion and Equifax to provide your VantageScore 3.0. The process doesn't require a credit card and only takes a few minutes to complete. Credit Karma will then continue to update your scores weekly so you can track your progress. You'll also get email notifications when something changes, like if you've opened a new card or if your score changed.
How Accurate is my Credit Score?
The VantageScore was jointly developed by the three major credit reporting bureaus to compete with the more well-known FICO score.
FICO's reporting model can take up to six months of credit history to establish a FICO score while you can establish a VantageScore in as little as a month of opening a credit account. Because of this, the FICO score neglected a large number of consumers leaving them unable to get financial services.
VantageScore also ignores paid collections accounts from your score, makes allowances for consumers affected by natural disasters, and counts all hard inquiries made in a 14-day period as one inquiry so you can shop for rates without worrying.
These factors make the VantageScore the most accurate and consistent credit scoring model, especially for consumers with a short credit history.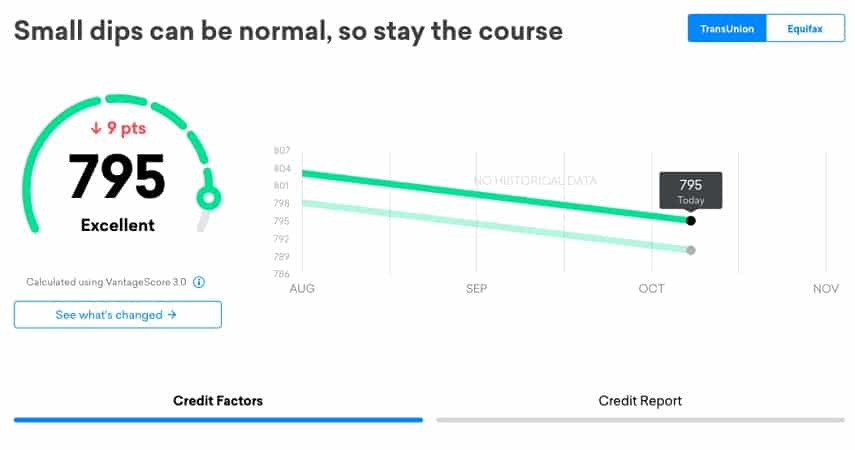 Will Using Credit Karma Affect my Credit Score?
Credit Karma requests your credit report information on your behalf from TransUnion and Equifax as a "soft inquiry" so using Credit Karma won't affect your score. But signing up for one of its partner services or acting on a personalized recommendation might.
Applying for credit, such as a loan or credit card, is considered a hard inquiry and can impact your credit score. If you apply for credit through Credit Karma or somewhere else your score could go down.
However, if you act on a recommendation from Credit Karma to decrease your credit usage or increase your amount of credit, your score could go up.
Is Credit Karma Safe?
Credit Karma is safe. Signing up requires you to submit personal information, including your Social Security number, so keeping your information safe is Credit Karma's highest priority.
It uses 128-bit or higher encryption to protect members' personal information. If for any reason it suspects suspicious activity you'll get an alert, and its dedicated security team will investigate and respond as quickly as possible.
The company also works with independent third parties to regularly assess vulnerabilities along with incentives to independent security researchers who detect security issues.
Will Credit Karma Sell my Personal Information?
Credit Karma doesn't sell or share your personal information with unaffiliated third parties. When you sign up for one of its partner's services Credit Karma will share your information with your permission, but you're protected under the company's privacy policy.
Who Should Use Credit Karma?
Your credit score isn't just used to get a loan. Potential employers, landlords, insurance, phone, and utility companies can all check your credit before starting your services or approving your application.
Anyone who wants to improve their credit score, find unclaimed money or learn more about their finances will find Credit Karma useful.
A good credit score is never something to take for granted. Credit Karma is a legit way to see the impact your choices have on your credit and offers simple things you can do to improve your score.