24 Real Ways to Make Money from Home
In a pinch and need a little extra cash? Looking for easy ways to make money from home?
You are not alone.
In fact, Google logs nearly 250,000,000 (that's 250 million) searches each year by people just like you.
Whether you're a broke college student who needs a little extra spending cash, or you're actually an adult now and looking to eliminate credit card debt or increase savings, most of us could benefit from a little more take home pay each month.
And whether we choose to acknowledge it or not, our financial situations have an enormous impact on almost every facet of our lives. The misuse of money can have devastating effects on our collective mental, social and emotional health.
Being short on cash often means being late on a utility bill, foregoing holiday gifts for a loved one, or missing out on activities with friends. Worse yet, some of us continue to spend and rack up debt. Even a few hundred dollars is often the difference between making it till the end of the month, or falling flat on our face.
If you feel like you are a part of this group, there is good news — we live in a pretty incredible age. The rise of the Internet makes earning money from home a legitimate option for those of us who could use a little extra cash. From getting paid to do online surveys, to opening an online store, there are hundreds of ways to make money at home.
Below, we will share with you the 24 best ways to make money at home in 2019.
24 Best Ways To Make Money from Home
Not all money-making opportunities are created equally. Because of that, this article is broken down into four sections. You can click to jump to a particular section.
» 5 Easy Ways to Make Money from Home
These items all require little to no effort, and are good for helping you find a few quick financial wins.
» 5 Jobs and Gigs that Allow You to Earn from Home
If you are looking for more meaningful income and want a relatively quick payout, this is the section for you. The gigs listed in this section can sometimes pay as much as a legit part time job, and there are even cases where people earn a full time income from home.
» 6 Full-Fledged Businesses You Can Start from Home
If you are looking to make a quick buck, this is not the section for you. The items listed here will not have you making money overnight, but they all have very high ceilings for income growth. If you want to eventually leave your 9 to 5 to work at home instead, one of these might be suitable for you.
» 8 Other Ways to Make Money from Home
A catch-all section where we will continually add new ideas as we come across them.
5 Easy Ways to Make Money from Home
1. Take paid online surveys
What does it pay? $0.50-$3 per survey is normal. Some survey takers make over $100 per month.
Best sites:  Swagbucks  |  InboxDollars  |  Survey Junkie
Market research via paid online surveys is a booming industry right now. Companies all over the world are looking for any competitive edge they can get, and one way they're doing that is by investing time and money into understanding consumer behavior. Their thinking is, "If we can understand our market better, we can find new customers, serve our existing customers better, and make more money in the long run."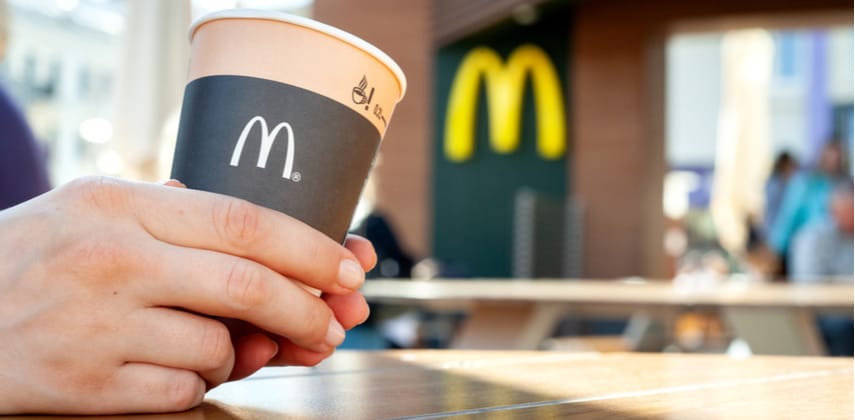 An example: Let's say McDonald's wants to know if they should expand their coffee menu to compete with places like Starbucks.
To guide their decision making, McDonald's might hire a market research company to conduct an online survey of coffee drinkers.
If you are selected to participate in this survey, you may be asked questions like:
Do you drink coffee?
Do you prefer making your coffee at home or grabbing it during your morning commute?
How often do you order food at Starbucks?
Are you single or married?
What is your monthly net income?
After compiling hundreds (or thousands) of responses, trends usually begin to appear. So, rather than spending millions of dollars in building out an entirely new menu and marketing it — without knowing if the investment will be worth it — companies like McDonald's would much rather do their research up front for a fraction of the cost.
As a participant in these surveys, you are compensated for your time and answers.
You won't get rich from them, as most surveys pay less than $1, but it's possible to earn upwards of $100 each month taking online surveys for money. Some survey sites even offer sign up bonuses as high as $10 to entice you to join.
If you are interested in making money with online surveys, here are three of the most reputable sites:
Swagbucks: Perhaps the most well-known and trusted of all the survey sites, users earn "Swagbucks" (also known as SB's) for each survey they complete. Swagbucks currently offers a $10 sign up bonus to new users who join their rewards program.
$10 Sign Up Bonus:  Claim Here
InboxDollars: This site was recently acquired by Prodege, LLC, which is the same company that operates Swagbucks.
$5 Sign Up Bonus: Claim Here
Survey Junkie: This is among the most straightforward survey sites we have come across. Once you complete a survey, you'll earn a predetermined number of points that you can exchange for cash, paid directly to a PayPal account, or you can redeem your points for free gift cards.
Free Sign Up: Register Here
Note: There are dozens of other survey sites out there. These just happen to be the more well-known ones that have a reputation for paying out in a timely manner and having reasonable standards for cashing out. As always, be careful with your personal information. We recommend using an entirely separate email address for survey sites so they don't clutter your inbox.
2. Negotiate your bills to make room in your budget
What does it pay? Variable. It's not uncommon to save $1,000 or more per year.
Before you get carried away hustling day and night for a few extra dollars, try taking a step back first.
Are there any serious leaks in your budget that are holding you back?
Sometimes it's easier to make a fix in your existing budget than it is to carve out time for an at-home side hustle — especially if you are already strapped for time.
Even if you don't think there is any room to spare in your monthly budget, consider checking out some of these done-for-you services:
Trim: This financial "assistant" communicates with you via Facebook Messenger or text; there is no app. Trim can negotiate your cable, internet and/or phone bill with any provider, and claims to be able to lower your bill by up to 30% (their cut is 33% of yearly savings). Trim will also analyze your transactions so you can quickly and easily understand where your money goes and provide personalized recommendations for the right financial accounts for you.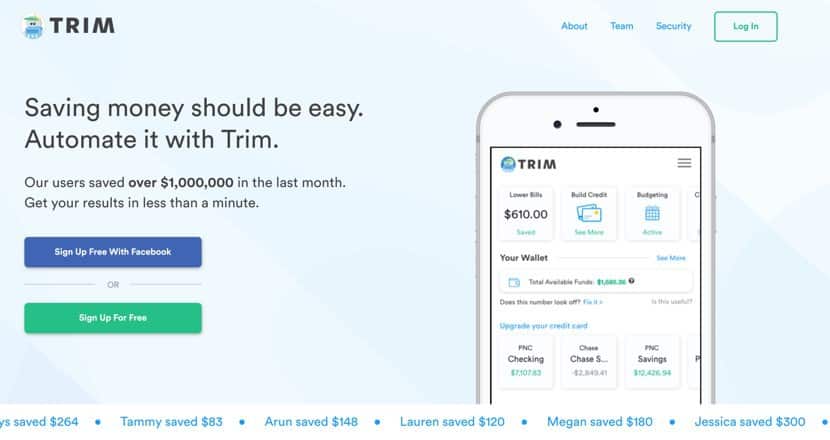 Billshark: This service specializes in negotiating common monthly bills. While they don't claim to be perfect, Billshark says that they have an 85% success rate negotiating bills for cable and satellite TV, cell phones, internet, satellite radio, and home security. Pricing is simple: whatever they are able to save you via negotiation, they take a 40% cut. If they can't lower your bills, you don't pay them.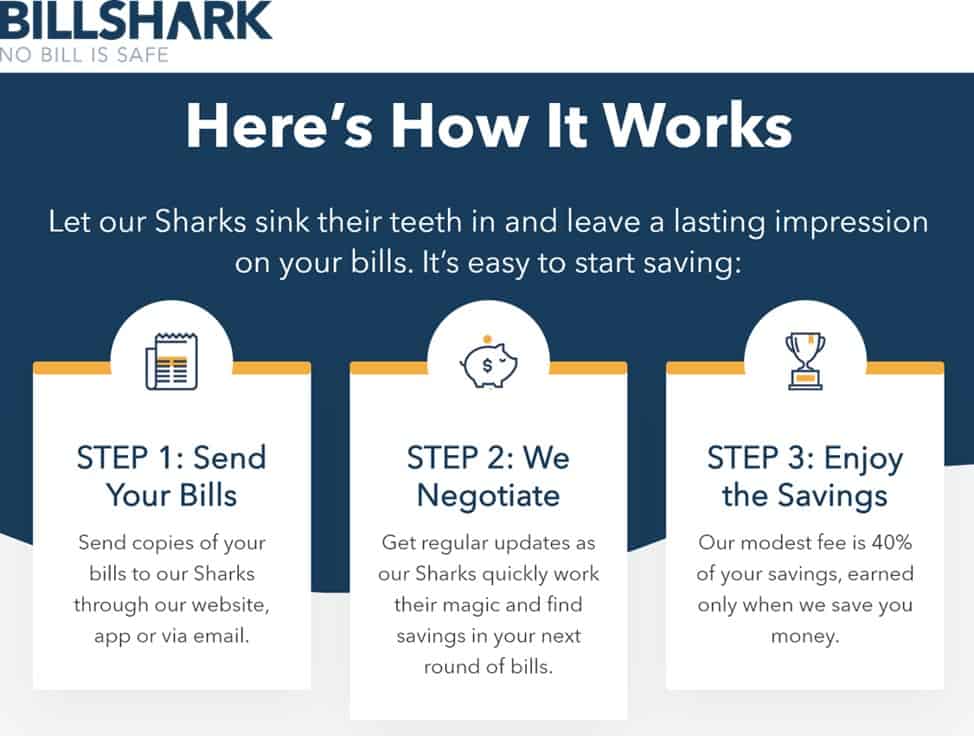 Lower your bills with Billshark
Truebill: Once you're done creating a free account and connecting your bank and credit card accounts, Truebill goes to work and analyzes your finances. It will find subscriptions you may want to cancel, negotiates bills on your behalf, tracks and categorizes your spending, and automates saving to help reach your goals. The app is free to download and use, but premium features come with a price. Similar to BillShark, Truebill's negotiation commission is 40% of savings.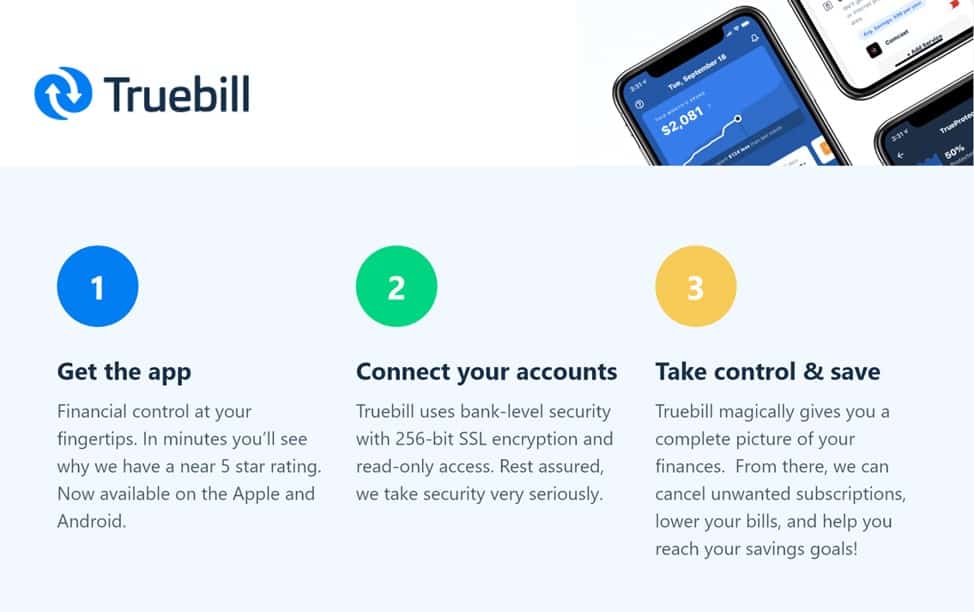 Lower your bills with Truebill
3. Go on a cleaning spree
What does it pay? It depends on how much — and what — you are able to sell.
Best sites:  Decluttr (electronics) |  BookScouter (textbooks) |  thredUp (clothes)
One of the quickest ways to come up with a couple hundred dollars is by getting rid of some of the stuff laying around your house. Between clothes, books, shoes, electronics, and all the other stuff we hang on to for too long, there is money to be made by selling the things we no longer use.
Aside from the monetary benefits of selling stuff you don't need anymore, downsizing can also be liberating mentally. Studies have repeatedly shown that a clean and minimal space can lead to higher levels of happiness. Less stress and a bit of extra money never hurt anyone, right?
Here are some of the most popular apps and sites for selling your stuff and getting the best deals:
Electronics, DVDs, CDs, Video Games: Decluttr buys your old CDs, DVDs, games, books, LEGO®, and technology. Select your technology or scan the barcode on your media items for an instant valuation. Once you accept an offer, Decluttr will send you a free shipping label. All you have to do is pack a box and drop it at your nearest UPS location or schedule a pick-up. Read our Decluttr review here.
Textbooks: BookScouter
Instead of being at the mercy of your local bookstore to offer you a good deal on your textbooks, BookScouter lets you instantly compare book prices across 44 different vendors. You pick the one that offers the best price and voila. Book sold.
Clothing: thredUp
thredUP makes it easy to sell clothes online. To sell your items, order a free "Clean Out Bag" on thredUP's website. Then send in your shoes via FedEx or USPS. Once they arrive, thredUp will inspect your items before listing. Their site says they accept less than 40% of items in the average Clean Out Bag. Make sure your items are clean, name-brand, less than five years old, and in excellent condition to increase your chances. Depending on the popularity of the clothing items you send in, you will be paid either after processing, or once your items sell.
4. Install a few cell phone apps (or allow ads on your phone)
What does it pay? Most people can expect to make $50-$100 per year.
Yes, companies will pay you to install apps (or place ads) on your cell phone and leave them there. These apps often run in the background and track your spending/purchasing habits. If you're not one to care who knows what groceries you're buying that week, then this is an easy way to a few extra dollars each year, for free. Here are some of the best money making apps that we have found:
Get paid to (anonymously) share your internet usage – Nielsen Computer and Mobile Panel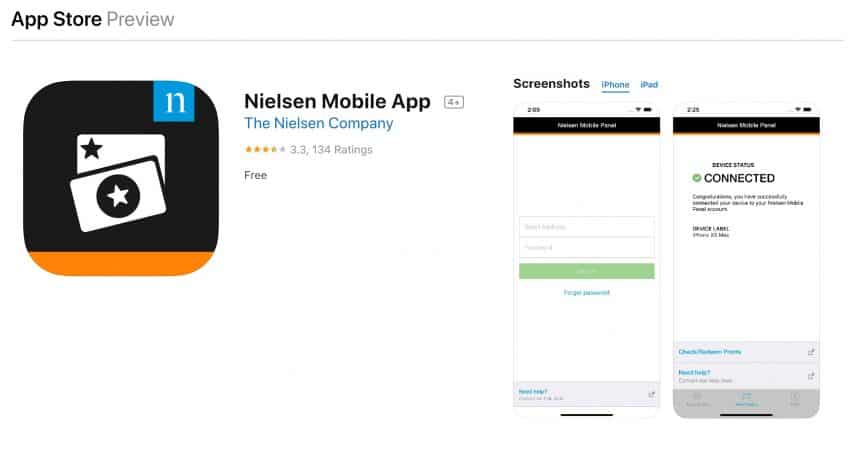 Nielsen (the same company that creates TV show ratings) has a research division that is similar to what survey companies do, which is gather information to help companies better market themselves to customers. Instead of having you take surveys, though, their computer and mobile panel is focused on gathering information pertaining to your "unique internet usage with people like you to build a picture of internet behavior."
What it means: Nielsen will pay you to download their app to any of your eligible devices. After you've installed the app, you will slowly start earning rewards just for using the internet as you normally do. According to their website, Neilsen gives away $10,000 each month to members.
Sell ad space on your phone's lock screen – S'more (Android only)
S'more is straightforward app that rewards you for allowing content and ads to show on your lock screen.
How it works: Simply swipe up, down, left or right to unlock your phone. If you're interested in what you're seeing on your lock screen, just tap the "learn more" button. In exchange for allowing S'more to rent your lock screen, the apps awards you points every day. You can redeem those points for gift cards to places like Amazon, Google Play, Starbucks, and more.
Other similar lock screen apps:
Screenlift
Slidejoy
Fronto
5. Don't buy anything without first using a cash back app
What does it pay? It depends on how much you shop. $100-$200 per year is reasonable.
Best apps:  Rakuten  |  ShopAtHome  |  Dosh  |  Drop
If you're going to shop, why not get money for doing it? Technically you're not making money, but you're getting money back (cash back) on purchases you would have made anyways. Best part is, this is on top of any discounts or coupon codes you may already have.
There is no reason not to do this — it's probably the single easiest way to earn extra money at home. You need an email address to sign up. That's it.
Even if it's $100-$200 per year, the savings start to add up. And it comes at zero cost to you!
Here are some of the most popular cash back apps that DollarSprout readers use everyday:
Rakuten: With over 2,500 stores to choose from, Rakuten (formerly known as Ebates) is a leader in the cash back industry. To date, Rakuten has paid its members over $1 billion in cash back. You can shop directly through Rakuten by visiting the website and choosing your store, or you can install the browser extension in your browser.
Read DollarSprout's Rakuten review here.
Join Rakuten and get a $10 signup bonus
ShopAtHome: This site bills itself as "your personal shopping assistant." Automatically get cash back, discounts, coupons and deals. Simply install, and start shopping. Your cash back savings are paid out via check, free Amazon gift cards or PayPal deposits.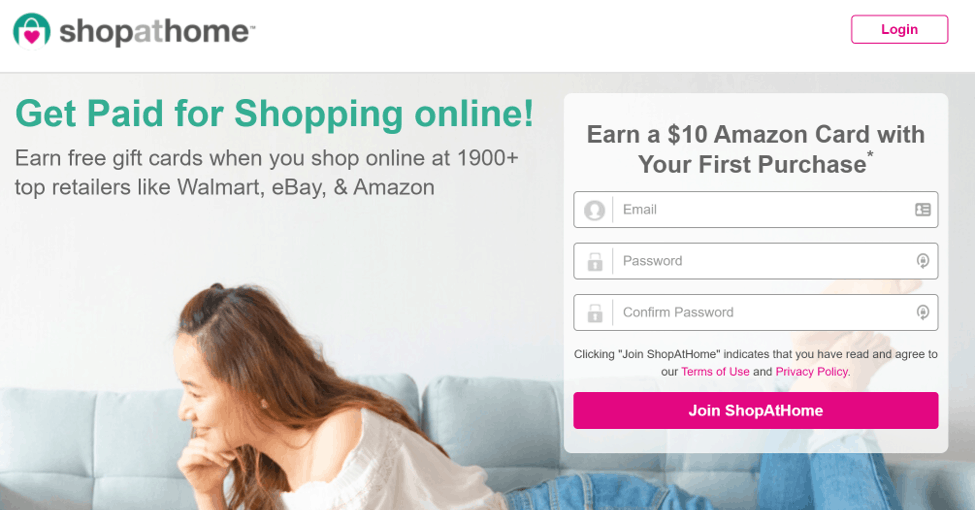 Join ShopAtHome and get a $10 Amazon gift card
Dosh: An up-and-comer among cash back apps, Dosh is quickly earning a reputation for offering some of the strongest cash back offers in the space. Pay with your linked card at 1,000s of stores and restaurants, and get up to 10% cash back automatically in your Dosh Wallet. Refer your friends to Dosh and get $5 for each one who signs up and links a verified card.
Read DollarSprout's Dosh Review here.
Drop: The rewards app may not be offering a signup bonus currently, but it is one of the best cash back apps on the market. And since each app has its own unique offerings, signing up for more than one will help ensure you get the best deal available. Read DollarSprout's Drop Review here.
5 Gigs That Allow You to Earn from Home (Or On Your Own Schedule)
Simple survey and cash back apps are great for making a few dollars here and there, but there is a limit to how much you can realistically expect to earn from them. If you are looking for something that's going to make a more meaningful dent in your monthly bills, these opportunities might be a better fit.
6. Food delivery gigs
What does it pay? $8-$25 per hour, depending on factors like location, demand, and efficiency.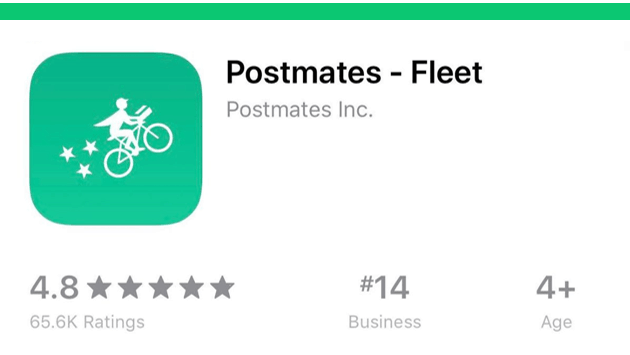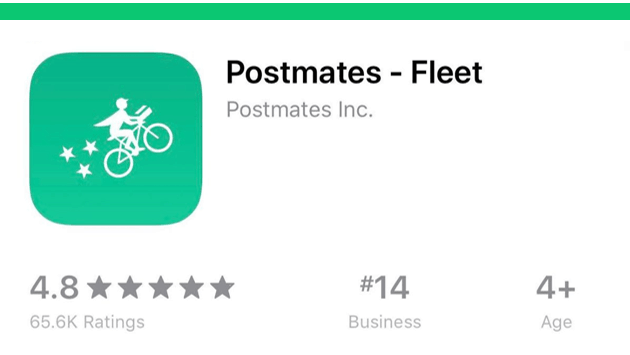 Postmates' slogan is very straightforward: "Anything, anytime, anywhere. We get it."
Being a courier for Postmates is a great way to earn extra money, especially if you like not having a set "work" schedule. Your tasks include delivering things like groceries, take out food from restaurants, and even alcohol. Even if you don't have a car, you can use your bike for deliveries (plus you'll get a nice workout).
There are no startup fees or time commitments with Postmates; you can work as much or as little as you'd like. You'll take home 100% of what you earn every time you complete a delivery, and you'll be able to see an exact breakdown of how your commissions are calculated.
Here's how to start making money with Postmates:
✔️ Create your account – This just requires your basic information, a profile photo and proof of identity.
✔️ Get a welcome kit – Once Postmates verifies you are a real person (and not a serial killer), they will send you a delivery bag and prepaid card in the mail that you will use for your deliveries.
✔️ Get the app, go online – Link your prepaid card to the Fleet app, then go online and start accepting delivery offers and get paid!
While there are a lot of factors that will affect your exact pay, Postmates claims that "experienced couriers" can make up to $25 per hour. You probably shouldn't expect to make quite that much, but this is certainly more lucrative than some other items on this list.
» Read DollarSprout's Postmates review here.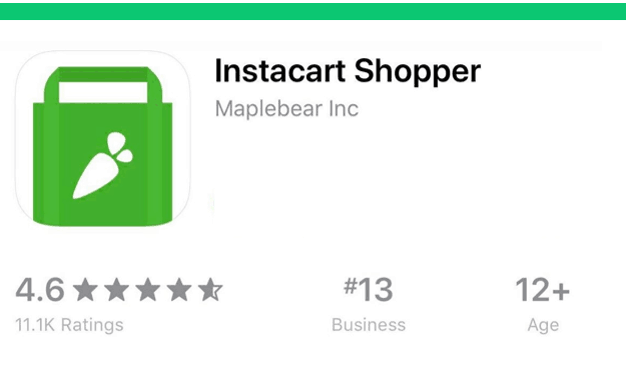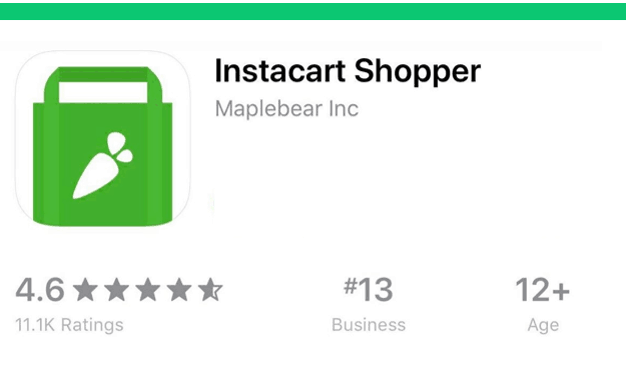 Instacart is another food delivery app that gives people a cost-effective way to get groceries delivered to their homes. It's a service that connects people who need to buy groceries with people who will purchase those groceries and deliver them to the person's door.
That means that people who don't mind grocery shopping can make money and help people by shopping for Instacart.
If you're looking for a flexible way to make extra money, becoming an Instacart Shopper may be a solid option for you.
» Read DollarSprout's Instacart review here.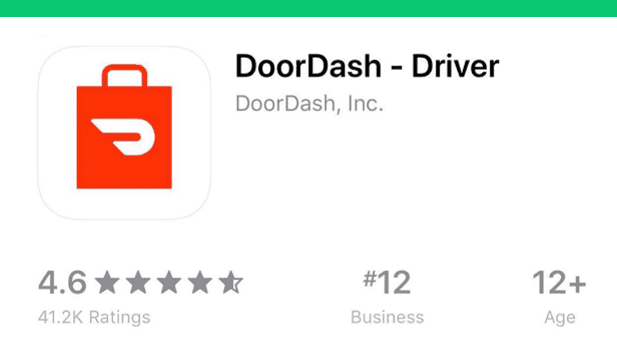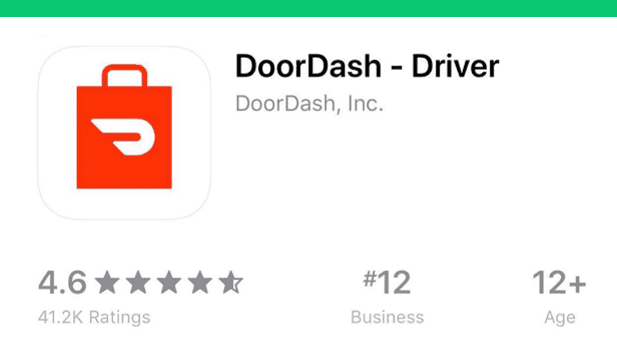 DoorDash: One way DoorDash keeps pay enticing and fair for Dashers (as compared to other apps) is by showing a guaranteed amount for completing each delivery before you accept it. The guaranteed amount is based on factors like the size of the order, whether you have to place it in-person, driving distance, traffic, etc.
That means you can be selective with the deliveries you choose. Liz Eischen, a Dasher in Portland, Oregon, says "It varies, but for me, I consistently see $9-$12. I often only pick up deliveries in the double digits."
As a DoorDash driver, you keep 100% of customer tips.
» Read DollarSprout's DoorDash driver review here.
These days, driving with Uber is a popular side hustle. But if your vehicle doesn't meet Uber's requirements, you can still make money on your own schedule by delivering food with Uber Eats.
Depending on where you live, you can deliver food with your car, bike, or scooter. You can deliver day or night, for however long you'd like. Once you are approved with Uber Eats, you can sign onto the app and start accepting delivery requests right away (and making money).
And just like other delivery gigs, at the end of each delivery, you'll be eligible to receive a tip.
7. Teach English from home
What does it pay? Up to $22 per hour with VIPKID. Most teachers make between $14-$18 per hour. 
Best sites:  VIPKID |  EF Education First
In China, there is a pressing need for qualified teachers to teach English to kids via online classes. If you have teaching experience, you can now start teaching classes from home. There are several companies specializing in this niche, and they are all eager to onboard fresh new teachers:
VIPKID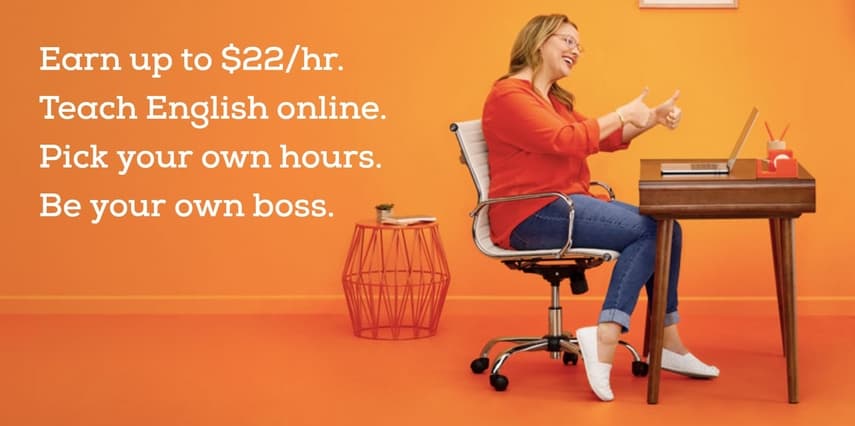 VIPKID needs thousands of teachers to teach English online to kids in China. While they do require a Bachelors degree, VIPKID does not require that new teachers need to know any foreign language or have formal teaching experience. Teachers can earn as much as $22 per hour hour working on the VIPKID platform.
The application process is broken up into five parts:
Ensure you meet the basic requirements, then fill out an online application.
Participate in a one-on-one interview with a VIPKID recruiter or record yourself teaching a demo lesson so a recruiter can evaluate you.
Take the introduction class and learn the ropes of the VIPKID platform.
Perform a mock class using what you learned in your training.
Sign your contract, upload some documents, complete a background check and you're a full-fledged VIPKID teacher.
EF Education First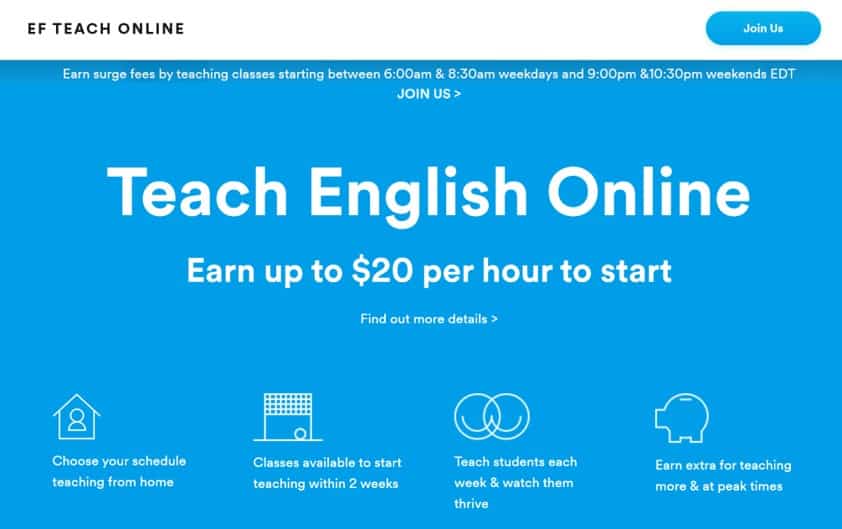 New teachers can earn up to $20 per hour (to start) while teaching kids online with EF Education First. Teachers with EF are able to choose their own schedule, so you have total control over your time.
Education First is the oldest brand in the private language teaching space. In addition to that, EF is one of the only US based online teaching companies (VIPKID is based out of China). Teachers with EF have been helping people around the world learn English for over 50 years, and the company isn't showing signs of stopping any time soon.
8. Pet sitting and dog walking gigs
What does it pay? You set your own hourly rate. Some people charge up to $50 per hour. 
Best apps:  Rover  |  Wag! 
Do you love dogs? Rover is a resource for busy pet owners, and they are always looking for new gig workers. They offer sitting, boarding, and drop-in visits for dogs and cats, as well as doggy daycare and dog walking services.

Caretakers set their own schedule, rates, size limitations, and whether they want to watch pets in their homes or those of the pets. All payment is done through Rover, so the only thing to collect in person are the snuggles. Read DollarSprout's Rover review here.
Wag! is another pet sitting and dog walking site worth checking out. It's common for people to sign up for both sites so they have maximum visibility in their area.
9. List an extra room in your house (short term rental)
What does it pay? Depends on your location and what your listing offers. Some are able to cover their mortgage from their Airbnb earnings.
Best apps:  Airbnb  |  VRBO 
Have an extra room in your house? Going on vacation for a week and interested in turning your home into an extra income stream while you are gone?
Another great way to make money online is to consider putting a room (or the whole place) on sites like Airbnb or VRBO.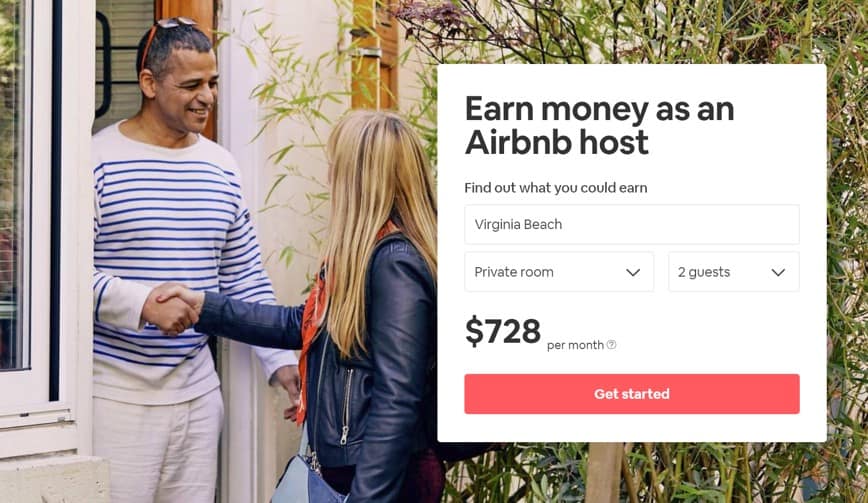 Ultimately, you can make money from your home. It involves very little to no work on your end, and you can get started without any investment.
Here's how making money via Airbnb works:
Create a listing by filling out a description, taking and uploading photos, and setting a price. Your listing helps guests get a sense of what your place is like.
Then, set the availability and house rules for your listing. Once your listing is live, guests can book their stay at your home, and you start earning money.
To up the "trust" factor for both the host and the guests, Airbnb does require some verification information, including phone numbers. After a visit, everyone gets the chance to write a review. Reviews keep guest accountable for treating hosts and their homes with respect, and helps ensure hosts make their space as welcoming as possible.
Sign up to make money as an Airbnb host here.
You can also read our in depth Airbnb hosting guide.
10. Rent your car out while you're not using it
What does it pay? It depends on your location. Getaround claims their average owner earns $1,000s per year.
One of our newest tips for how you can make money from home: Let other people use your car when you don't need it.
These two companies are leading the charge in this new market:
Getaround: The vehicle sharing app lets you post your vehicle and automatically connects you to people in your area who need a ride. Renters can access and book your car straight from the app, so you don't have to mess around with scheduling to exchange keys.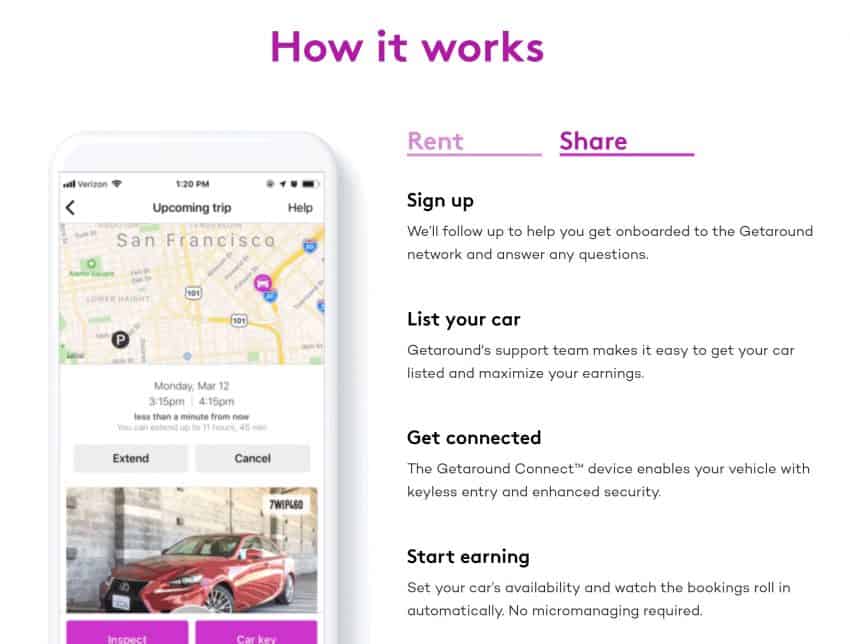 List your car and start earning with Getaround
As a Getaround car owner, you get access to premium parking as well as a $50 monthly rental credit. And with $1 million insurance coverage, you can rest assured your property is in good hands.
According to Getaround's estimates, car owners that routinely lend out their car can earn "$1,000s per year actively sharing your parked car". Considering there is no effort needed by you, it's a pretty good way to make money. That being said, your car will likely depreciate a bit faster by virtue of lending it out to other people. If you have a big car loan or are underwater on your loan, putting your car on a site like Getaround might not be a great idea.
To get started, just sign up and name your car, set the location and availability, and enter a description.
Rental earnings accrue on a monthly basis and are paid on the 15th of the following month.
Turo: The coolest part about this app is that it uses an algorithm to set your car's price based on market value, location, time of year, and other data (to make your listing as competitive and lucrative as possible). If you prefer, you can manually set your own daily price.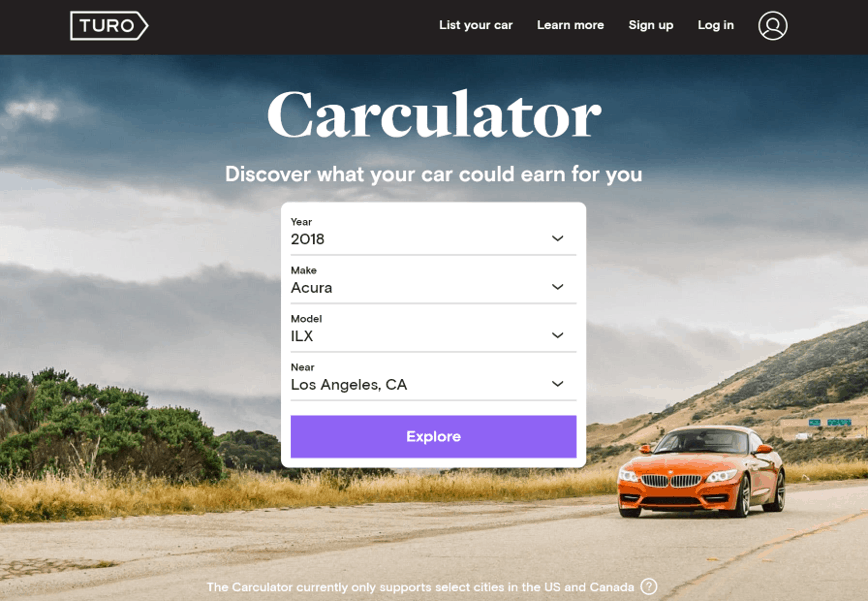 List your car and start earning with Turo
Turo pays you via direct deposit within five days. According to their site, you'll earn "65% to 85% of the trip price, depending on the vehicle protection package you choose. If you have commercial rental insurance to cover you, your car, and your customers and would like to waive vehicle protection provided via Turo, you earn 90% of the trip price."
6 Full-Fledged Businesses You Can Start from Home
The items in this section of this list are the heavy hitters. Most of these ideas usually start as a simple side hustle, but they all have unlimited growth potential. If you find something here that you fall in love with, there is nothing stopping your from turning it into a career.
11. Start a blog
Did you know that the site you are on right now is considered a blog?
DollarSprout is a personal finance blog with articles primarily focused on money topics, but you can start a blog on just about anything.
People often have very unique reasons for wanting to start a blog and make money from home. Some blogs, like this one (DollarSprout), are meant to be informative resources for readers. Other bloggers may opt to share personal sides of their lives. For instance, many people will start a blog to document their fitness journey and inspire others along the way.
No matter your reason for wanting to start, with the right strategies, your blog can:
Connect you with millions of people.
Get your ideas out into the world.
Make you more money than you could ever make at your 9 to 5.
While it will likely take a considerable amount of time before you start to make money blogging (think at least 6 months), there is no limit on the amount it can ultimately make.
For inspiration, here is a list of some elite bloggers who are pulling in over $10,000 per month:
 $111,926 – Alex and Lauren at Create and Go (watch their YouTube video below)
 $57,686 – Lindsay and Bjork at Pinch of Yum
 $23,620 – Greg and Holly at Club Thrifty
 $22,931 – Rosemarie at The Busy Budgeter
 $10,168 – Alexa at Single Mom's Income
And those are but a few of thousands of bloggers who are able to fuel their lifestyle with jobs working from home making five, and even six-figures a month. Bloggers will often use a combination of methods to make money including sponsorships, product sales, or even coaching for their audience.
If you're new to blogging, and want to learn how to make money at home but aren't quite sure where to start, consider starting a WordPress blog (like DollarSprout) with HostGator. It's a low cost way to start your own online business (less than $5 per month) and HostGator offers a 45-day money back guarantee if you decide blogging just isn't a good fit for you.
Here's a great step by step tutorial for those of you who are interested.
Want to see how we built a $1,000,000+/year blog?
In this FREE 7-day email course, you'll join 50,000+ other readers in:
Seeing the exact steps we took to earn our first $1,000 blogging (and beyond).
Starting your own blog (and learning how to write epic, money-making content).
You're in! Check your inbox for your first lesson.
There was an error submitting your subscription. Please try again.
Course delivered courtesy of Breaking The One Percent. Powered by ConvertKit
12. Start a Facebook ads business
Think about how many small businesses are in your city (not giant retailers like Target or Walgreen's, but local restaurants, dentists, law firms, etc). Chances are, most of them are not taking advantage of Facebook advertising.
These businesses may have a Facebook page, but most aren't getting anything out of it (i.e., they aren't getting more customers or sales). That's where you can come in: the Facebook ads specialist. The best part about this home-based business is that learning the art and skill of Facebook ads isn't impossible — anyone can pick it up and secure their first client within a month.
What do Facebook ads experts do? As you might expect, Facebook ad agencies help businesses get more customers and increase revenue. Specifically, you would help local small businesses:
Create Facebook ads based on their goals
Gain exposure to their target market
Manage advertising budgets and ongoing campaigns
How much can a Facebook ads agency earn? This depends on the results you deliver for your clients. Most Facebook ad agencies — and even one man shows —  will usually charge a monthly retainer as their "management fee" for managing the ads.
It's industry standard to charge anywhere from $1,000-$2,000 per month per client, and you don't need previous website or marketing experience to get started. As you bring on more clients and build a reputation in your community for delivering outstanding results, your income can scale up quickly. It only takes a handful of clients to start building a full-time income.
Bobby Hoyt and Mike Yanda (featured in the video above) are two world-class Facebook marketers who created a course to teach you everything you need to know to get started. Instead of piecing together an education on your own, and wasting a lot of time and money in the process, this course puts everything you need to know in one place.
The course helps you quickly master the three phases of building your own work-from-home Facebook ads business:
Learning how to set up a Facebook ad system for a local business
How to find prospects who will pay you for this service
How to convert those prospects into clients
If you want to learn more about Bobby and Mike's backgrounds, and how they've built their own Facebook ads business, check out their story here.
13. Become a freelance writer (or proofreader)
Along the same lines as starting your own blog, another one of the best ways to make money from home is writing quality content for viewers. How much money? To the tune of several hundred dollars for a 3-4 page article.
If you're still reading this article, odds are someone would have paid you over $200 for something of similar (or hopefully better) quality.
The better you are at writing, the more your content is worth. Even part-time freelance work can add thousands to your monthly income. Holly Johnson from Club Thrifty makes over $200,000 a year from freelance writing! And she has a course that teaches others how to do the same.
If writing isn't your thing, do what Caitlin Pyle did:
In 2014, Caitlin made over $43,000 by working as a freelance proofreader — in her spare time. If you've got a knack for spotting typos or naughty grammar, this legit online job might be right up your alley.
When she wasn't working, she even had time to go on several fun vacations.  After she had a ton of success doing that, she decided she wanted to teach others how to do the same thing, so she started up Proofread Anywhere.
Sign up for one of her free workshops to learn more about how to make money as a proofreader.
14. Become a virtual assistant
If you're interested in a career that will allow you to make money from the comfort of your own home, becoming a virtual assistant is a realistic, flexible option that may be suitable for you.
Virtual assistants are responsible for helping businesses manage some of their basic day-to-day tasks. Things like posting to social media, managing incoming email, etc. By offloading some of these task to a virtual assistant, a small business owner can put more focus on the bigger picture.
If you want to fast-track your learning, there are several reputable courses available online:
30 Days or Less to Virtual Assistant Success – This course is taught by Gina Horkey, who started her virtual assistant business in 2014. Within 6 months of starting, she was making over $4,000 per month.
$10K VA – Kayla Sloan is a well-known virtual assistant who turned her VA work into a 6-figure career, and she recently put together a course teaching others how to do the same.
In Kayla's course, you will:
Learn how to land your first client
Get swipe files for pitching to potential clients
Learn how to set your rates so you get paid what you're worth
Create a system for efficiency so you can maximize your billable hours
Join a community of other virtual assistants
15. Become a graphic designer
Whether we want to admit it or not, most people will judge a book by its cover. It's human nature.
We also subconsciously judge businesses by how they visually present themselves. Graphic design is something that virtually every business needs, but it often gets neglected or is seen as unimportant. That's where you can come in as a graphic designer.
Graphic designers are in charge of bringing to life the visual "feel" of a brand. Whether it's creating images for an Instagram feed, designing a restaurant menu, crafting a logo, or anything else, the work that graphic designers has a large impact on how a customer and the general public feel about a business.
16. Design and sell t-shirts
Everybody wears t-shirts, which is a trend that probably won't end any time soon. That means there will always be ways to make money in this industry.
Teespring.com is a site that allows you to design and sell t-shirts, without paying any money up front for inventory.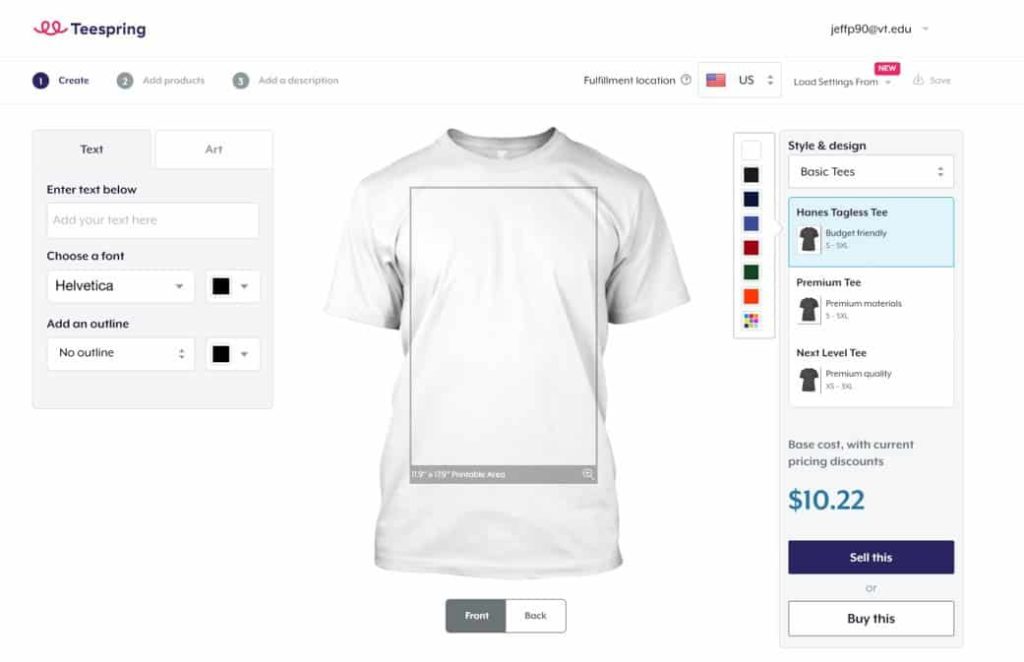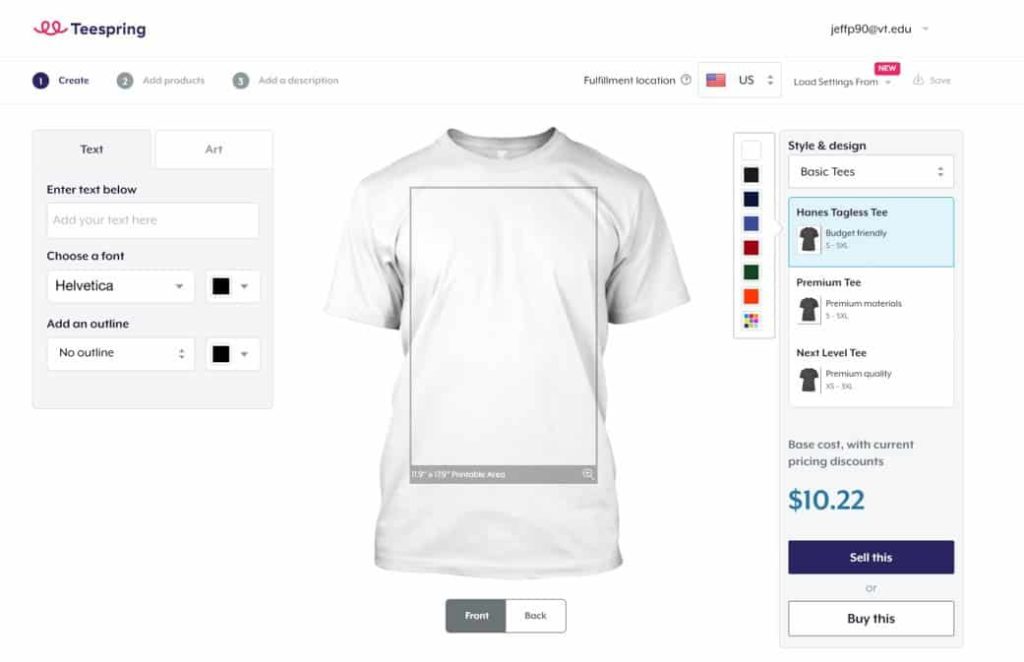 You basically create your own "store" with different t-shirt designs, and once you hit a certain number of orders, Teespring will create your shirts in one batch and ship them all for you.
8 Other Ways to Make Money from Home
If you still haven't found "the one" yet, do not despair. Here are some more ideas for legitimate ways to make money from home:
17. Become a real estate investor
Andrew Carnegie famously once said:
"Ninety percent of all millionaires become so through owning real estate. More money has been made in real estate than in all industrial investments combined."
Real estate can be a very profitable investment opportunity, but many people don't know how or where to start. It's also common for aspiring real estate investors to be scared off of the idea because of the upfront capital requirements. While it's true that you do need some money to make money from real estate, technology has made it easier for investors to get up and running without much startup capital.
Fundrise ($500 minimum)
If you don't want to deal with the learning curve that comes with hands-on real estate investing, you can start with with as little as $500 by using a platform like Fundrise.
Fundrise allows investors of all types (beginners and experts alike) to invest directly in a real estate portfolio that's managed by a team of professionals.
By using a platform like Fundrise, you don't have to deal with the headaches of being a landlord and dealing with tenants. With 8-12% annual historical returns, this is an excellent opportunity to potentially grow your wealth.
Roofstock
If you prefer the challenge of buying individual properties yourself, but aren't quite ready to do it 100% solo, consider looking into a site like Roofstock. Roofstock lets you buy properties with as little as 20% down that already have tenants living in them, which means you start getting paid from the first day of your investment. Since everything with Roofstock is still done online, you don't even have to physically visit the properties!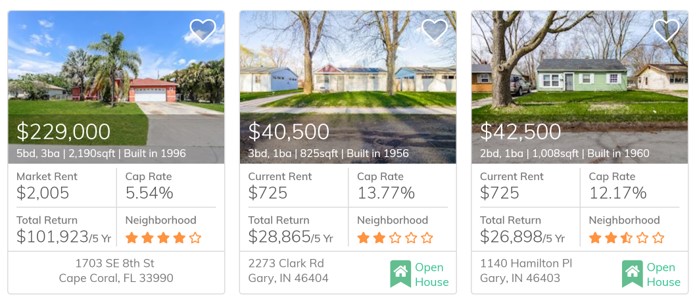 This could be a smart strategy if you live in an area where real estate is outrageously expensive, or you don't want the hassle and expense of traveling all over the country visiting potential properties. Plus, if you are new to single-family real estate investing, letting a place like Roofstock guide you through the process is a great way to get your feet wet.
18. Profit off your own weight loss
HealthyWage is a website that allows you to make a bet on your own weight loss.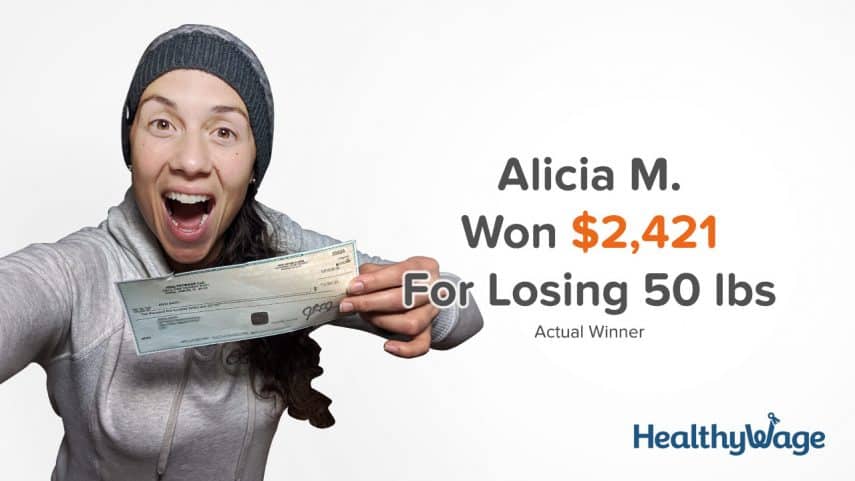 The idea is simple: If you accomplish your weight loss goal within a given time frame, you win your bet. If you don't accomplish your weight loss goal, you lose your bet.
For example, if you use their bet calculator, a $30 monthly bet to lose 20 lbs in 6 months will win you between $200-$529.41.
Check out our HealthyWage Review to learn more.
19. Start investing (no matter how small)
If you want to set yourself up for long term financial success, it all starts with the choices you are making with your money today.
That means that if you have extra money just sitting idle, either in a checking account or a low yield savings account, you might be better suited to put those funds into something that can grow faster.
Depending on your age and how much risk you are willing to take with your investments, you should be netting around 7% growth per year with a balanced portfolio. Of course, there will be ebbs and flows (and you won't make money every day), but investing over the long term is one of the best ways to build long-term wealth.
Here is an app that make it very easy to get started, even with a small amount of money:
Acorns – $10 Signup Bonus
With an app like Acorns you can get started investing in just a few minutes on your phone.
Acorns works by essentially "rounding up" the spare change from your everyday purchases (to the nearest dollar) and then invests the difference into the stock market.
For example, if you spend $3.45 on a cup of coffee, Acorns will round the purchase up to $4 and invest the extra $0.55 into your portfolio.
If you're new to investing and don't fully understand how the stock market works yet, Acorns is a great way to get your feet wet. You can read our full Acorns Review here.
Acorns is now offering a
$10 signup bonus
for new accounts opened. After completing your account registration, Acorns will deposit $10 into your account to help you get started.
$0
Account minimum
You'll need $5 to start investing.
How Acorns stands out:
The Acorns app is very easy to use, which is perfect for new investors who are learning the ropes. Users' everyday purchases are rounded up and the change is invested, which makes investing a daily habit.
Show Hide more
Pros:
Free investing for college students

Completely automated

No account minimum
Cons:
They charge an account fee and other fees for IRAs.
Limited portfolio options.
Monthly fee can be a high percentage on smaller account balances.
Account Types:
Taxable investment accounts
Retirement accounts
Checking account with debit card
20. Switch banks and earn more interest
Do you still have the same savings account you had when you were a kid?
If so, chances are good that you are not earning as much interest on your savings as you could (and should) be earning.
At the time of this writing, the average annual percentage yield (APY) on a savings account in the United States is 0.09%. That means that $1,000 sitting in a savings account will only earn $9 in interest if it sits there for an entire year. Not ideal.
By moving your money into an online savings account, though, you stand to earn far more on your money. Many online savings accounts today offer somewhere in the neighborhood of 2% APY — about 20 times more than the average.
Right now there are several competing banks offering premium rates on high-yield online savings accounts. This is great for the consumer [you] because they're in constant competition to see who can offer the best interest rate [to lure in new customers].
21. Invest in fine art
When the word "investing" is mentioned, most people think of the usual: stocks, bonds, real estate, currencies, etc.
As it turns out, there are assets classes beyond these that can give investors additional diversification. One such asset class is fine art.
Up until now, it wasn't possible for most ordinary people to buy famous and original works of art from artists like Picasso, Monet, or Rembrandt.
Masterworks is a new company that is making it possible to buy "shares" in a painting, just as you would buy shares of stock.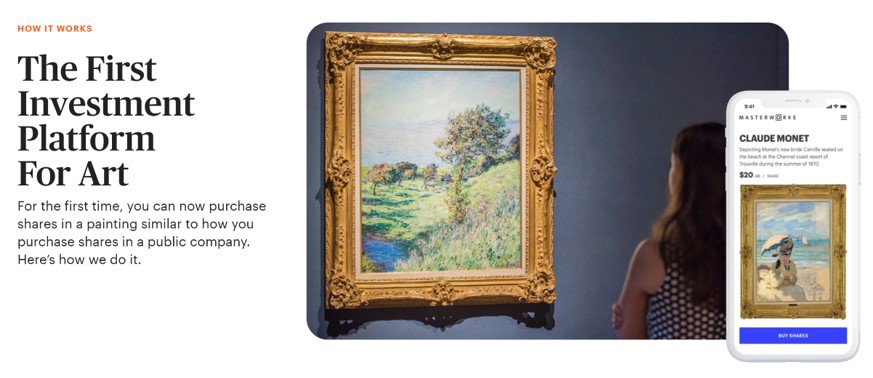 Click here to request an invite
Here's how it works:
Masterworks purchases a piece of artwork using their own pool of money
They will then file the art with the SEC
Once the SEC qualifies the filing, investors can purchase shares
After time, Masterworks sells the art and shares the profit with shareholders
22. Rent out things you're not using
You know that super nice Nikon DSLR that's sitting in your closet collecting dust (that you can't bring yourself to sell because you still use it from time to time)?
Or that Trek mountain bike that goes unused for 300 days out of the year that's just sitting in your garage?
We all have something like that just laying around that could help us make some extra money through a neat service known as Fat Lama.
Think of Fat Lama like Airbnb, except you list everyday items for rent, instead of your house. Some users are earning upwards of $3,000 per month renting out a wide variety of things — from TV's and high-end sound systems, to simple things like bikes and scooters, you can list just about anything and turn a profit.
Better yet, they even offer comprehensive lenders insurance. If an item is lost, damaged and/or for some reason never returned, they'll cover the full value of the item. It's an insanely easy way to passively make money at home and have someone basically pay off your item for you.
Renting out items isn't the only way you can earn, too. New users automatically get a $20 bonus applied to their account and you can an earn an additional $10 for each member that you refer than ends up placing a rental order. This is a good way to make money fast while your items to get the use they deserve.
23. Help Google and make money at home
Want to earn $100 per year in rewards for changing nothing about your life?
With Google's Opinion Rewards app, you have the opportunity to install apps that collect information to help Google improve their products. According to the site, users can earn an estimated $100 in rewards each year.
It works in essentially the same way as the phone apps that were mentioned earlier. If you don't mind having Google know what you do on a daily basis (anonymously), you can make money by letting them monitor your Internet usage. They use the information they gather to help them market and increase the functionality of their advertising programs when targeting users that are similar to you.
24. Put your digits to use
Not your phone number. Your fingers.
You can earn up to $24 per hour simply by transcribing audio to text. Speechpad pays speedy typists to make written versions of audio and/or video clips.
At up to $.40 per minute, you can rack up some serious cash for those insanely fast typing skills you never thought would come in handy.
Additional Resources (and One Last Recommendation)
While there are hundreds of ways to make money at home, that doesn't mean you need to be doing all of them.
Those who tend to find the most success with side hustling find a one or two things they really enjoy, and they stick to them.
Here's how that might look for someone:
James has a job that he unhappy at, and he wants to eventually start his own business (from home)
James loves surfing, and decides he wants to start a blog about surfing
Every morning before work, James gets up at 5 A.M. to work on his new blog
Some nights after work, he delivers for Postmates to earn a little more
After 16 months, his surfing blog is starting to earn a respectable income and his savings are starting to build up
James decides it's time quit his job and go all-in on his blog
This is a simple example, but it goes to show how someone can leverage multiple side hustles to eventually accomplish their end goal — whatever that may be.
But, if James didn't truly enjoy the work he was doing on his surfing blog, he would have never stuck around long enough to make it to that point. He would have quit after a few weeks (or less!).
So, find something you're passionate about doing. If you're going to be doing something to make money at home on top of your 9-5, when you're already tired from a day's work, it should be something you really enjoy.
And that's it. With some hustle and dedication, you can figure out how to make money at home. Many people reading this can add an additional $1,000 in income to their take-home pay each month — you just have to go out and make it happen!
Additional DollarSprout resources:
» Passive Income Ideas
» List of Best Micro Jobs Websites
» Best Freelance Jobs Websites